Marion Benke
We can always depend on good service from Barbara!
N.S.
Barbara was excellent! She is great to work with and was available and willing to assist us with all of our concerns and needs.
Jesse Barber
Always available and supportive through the whole process of the sale. Excellent!
Henry and Donna
Barbara follows through on every detail and does her very best to make the sale as easy and fast as possible!
Craig and Susan
Calm, Attentive, and Prompt
Chuck Miner
Never gave up on a tough situation!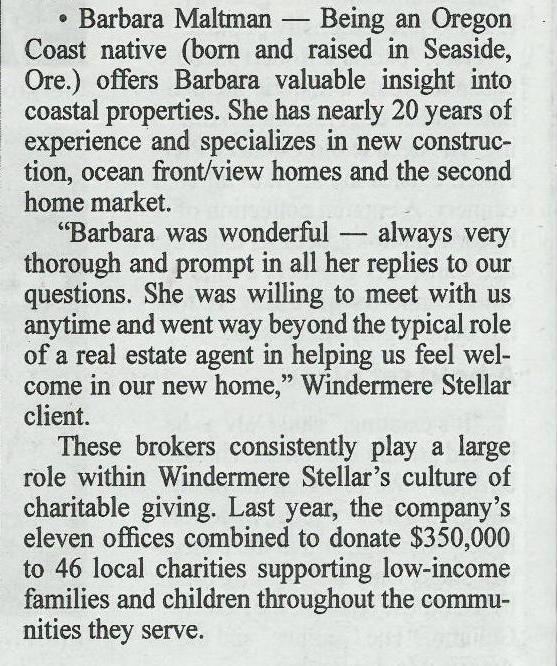 Top Producer
Windermere Stellar announces top local brokers for 2015
Floyd and Cindy
Barbara was so nice to come to the house early to take care of the dogs before a showing if we could not get there. She made extra calls when we asked for more information. Outstanding agent in our community.
William and Janis
It is a pleasure to deal with a real professional. She understood our needs which made the selection stress free.
Bill & Marlene
Thank you for making the sale of our condo the smoothest real estate transaction we have ever experienced!
Mark and Janelle
Barbara was great to work with and helped us through the rough spots with ease.