You don't need to spend a lot of money to make  your dining room table a holiday standout. Ideas include: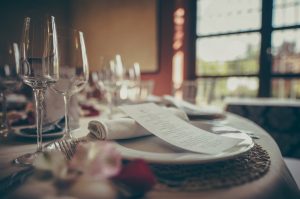 MINI MENUS – Don't keep your guests guessing about what will be served. Leave a small menu at each place setting. Those with special food requirements will especially appreciate this extra effort. 
CONVERSATION NAME CARDS – On the opposite side of a standard place-setting name card, include a customized conversation starter (e.g. "Ask me about my vacation").
DECORATED WINE BOTTLES – Instead of leaving plain bottles of wine on the table, consider decorating them with ribbons, fabric sleeves, gift tags, and more. 
ARTFUL NAPKINS – Folding cloth napkins into fun shapes and figures is not difficult (children love the challenge), but the end result will make your guests feel very special.